President's Report
I can't believe it is February already! If you are like me, things are already back in full swing for the New Year. Now, while this is the case I hope you haven't already given up on your 2017 resolutions. I am trying to stay on track with mine which is to go to more community events. I know it gets hard because "life happens", however, as we business owners know sometimes we can get things done by just our sheer will!
The speaker for our small group Information and Libation last month was Vicki Clark and boy did we have fun together over margaritas (we learned a lot too)! Thank you, Vicki for teaching both NAWBO member and non-members about planning for retirement with your chocolate visual aids.
Every member of NAWBO is an expert in something. Figure out what you would like to teach us and contact Rhonda Washer at rhondawasher@hotmail.com to put it on our schedule for our Information and Libation small group meetings. It is very informal. We meet for a cocktail, maybe you give 5 minutes of information and we ask questions to pick your brain on the subject. If you are attending, bring a friend (who doesn't have to be a member-yet) and have a great time with your sisters!
Valentine's Day is also approaching. You may be sharing it with a special someone or friends and family. Either way, remember to love YOU. YOU are the only person YOU will be guaranteed to spend your lifetime. YOU are a trailblazer, YOU are unique and YOU matter! So take some time to visit with friends or soak in a bubble bath. We are hardest on ourselves and we each deserve a great life.
It is an honor to have been voted in as your president for 2017.
Michelle Rouland
Back to top
---
Calendar of Events
FEBRUARY 15, 2017 - WORKFORCE GENERATIONS
Guest Speaker: Shalesse Pie
Today, our workforce is by a majority comprised of three generations: Baby Boomers, Gen-Xers and Millennials. Managing a diverse group can be challenging. Once you remove the stereotypes, facts vs. fiction and me vs. them you will find that there are actually some things that are in common. Understanding the differences is the key to managing these groups. Learning what really matters and motivates each group will have the potential of expanding productivity and produce exceptional teams. The truth is; organizations benefit the most when they are able to leverage diversity of experience, talent and knowledge.
Shalesse Pie, a native of Peoria, has been in the Human Resources field for 18 years and is currently the Superintendent of Human Resources with the Peoria Park District. She earned her B.A. from the University of Illinois and completed her EMBA in 2005 from Bradley University. Shalesse has her (PHR) Professional Human Resources certification as well as her SHRM-Certified Professional designation. As a contract trainer with AAIM Employers Association, Shalesse has presented on various topics and human resources learning series.
Shalesse has had the opportunity to volunteer for several boards and committees as well as share her knowledge, skills, talents, and abilities as a keynote speaker at several career day workshops throughout Central Illinois.
She believes that she is obligated to use all that she has learned to challenge, inspire, and encourage others
COST: $30 for members and $35 for non-members.
REGISTRATION: You may pay at the time of registration or at the door. Registration fee must be paid by the meeting date or a $5 monthly administration fee will be assessed.
LOCATION: Mt. Hawley Country Club, 7724 N Knoxville, Peoria, IL. Valet parking available.
MARCH 15, 2017 - MEMBERSHIP RECRUITMENT MONTH
SPEAKER: Various
CI NAWBO is a dynamic organization of business women who affect not only the local economy but internationally as well. This group of forward thinking entrepreneurs have been a part of the community since 1978 - we are the third oldest chapter in the U.S. behind only Chicago and Los Angeles. You need to be part of what is happening here!
If you are currently a business owner, would like to own a business, are supportive of the vision of NAWBO, are a corporation or non-profit that would like to align with our Chapter, you are invited to come and hear more about what CI NAWBO is doing and the benefits of being part of this organization.
COST: $30 for members and $35 for non-members.
REGISTRATION: You may pay at the time of registration or at the door. Registration fee must be paid by the meeting date or a $5 monthly administration fee will be assessed.
LOCATION: Mt. Hawley Country Club, 7724 N Knoxville, Peoria, IL. Valet parking available.
APRIL 19, 2017 - PUBLIC POLICY UPDATE
Don't miss this vital meeting as you learn about those policies that can affect y our business. For over 40 years the National Association of Women Business Owners has lead the charge regarding public policies that impact women business owners. Our meeting will focus on just that as our elected officials bring us up-to-date on what is happening in Washington and Springfield that we need to be aware of.
COST: $30 for members and $35 for non-members.
REGISTRATION: You may pay at the time of registration or at the door. Registration fee must be paid by the meeting date or a $5 monthly administration fee will be assessed.
Back to top
---
Image Potential Shares
Use Your Head to Help Your Heart by Cindy Byrd, image potential
Last month I wrote about the importance of taking your brain to the gym as part of your New Year's resolutions – meaning, strive to have a deeper understanding of how the brain functions in order improve all aspects of your life. I also pledged that one of my resolutions for 2017 is to incorporate the knowledge I gain about brain science into the learning opportunities I provide for others.
February is "heart" month, so in the spirit of helping you learn more about brain science and increase awareness of heart disease, especially in women, this month's article is devoted to a newly discovered correlation between the brain and heart health. First, here is a reminder of some startling statistics compiled by the American Heart Association:
Cardiovascular diseases and stroke cause 1 in 3 women's deaths each year, killing approximately one woman every 80 seconds. (This is more than all cancers combined.)

An estimated 44 million women in the U.S. are affected by cardiovascular diseases.

90% of women have one or more risk factors for heart disease or stroke.
Women have a higher lifetime risk of stroke than men.While the link between chronic stress and heart disease is not new, it's just recently that researchers learned about the brain science behind it, which suggests that increased activity in the amygdala, the brain's emotional processing center, may result in an increased risk for cardiovascular disease. This primitive part of the brain, also known as the brain's warning center, is where our hard wiring for detecting threats is located; and, consequently, our emotional reactions arise from here. It's also where emotional memories are stored – easy to see how the amygdala is more susceptible to stress.
The study of nearly 300 people was conducted over about 5 years and showed thatheightened activity of the amygdala was associated with increased arterial inflammation, a known factor that elevates risk for cardiovascular disease. This is the first study to provide evidence of a link between how the mind, body, and brain perceive and respond to stress and the onset of cardiovascular illness.
So what to do about it? The American Heart Association also offers this heartening (pun intended) statistic: 80% of heart disease and stroke events may be prevented by lifestyle changes and education. While we know exercising more and eating healthier are important lifestyle changes, what about a lifestyle change for your brain? This is what's at the heart of the study about the amygdala and how the brain perceives and responds to stress. Consider a lifestyle change that begins with changing your reaction when faced with a stressful (or seemingly stressful) situation. And increase your education, your self-knowledge. Examine how you typically respond – are you prone to being hijacked by your emotional response or do you practice methods that improve your self-awareness, attentional control (being in the moment), and emotional regulation?
If you answered "yes" and "no" to these questions (or even if you didn't—because we all have our moments when emotions and stress get the best of us), please learn more about enhancing your ability to unhook from an emotional hijacking, whether the source of your stress is real or perceived. Mindfulness meditation and practice is a great place to start, and there are many good sources out there on this subject. I shared a favorite book of mine last month that also teaches how to enhance emotional intelligence: Search Inside Yourself by Chade-Meng Tan. Also, in Working with You Is Killing Me, Katherine Crowley and Kathi Elster offer a four-step unhooking process that's worth implementing. As they put it, "change your reaction, change your life." And I say, "Use your head to help your heart and ultimately change your life."
Back to top
---
Public Policy Topics
The state of our State is not positive. In April, NAWBO will have its annual Public Policy Update. In the meantime, make sure you are keeping current and contacting your elected leaders. Our businesses depend on it.
Illinois' out-migration problem is often described as symptomatic of the Midwest and normal for a Rust Belt state.
But even among other Midwestern states, Illinois is an outlier.
While it is true most Midwest states have net outflow to the rest of the country, Illinois is very different. Illinois' out-migration rate per 1,000 residents is the worst in the region by several multiples. Furthermore, half of the total out-migration losses from July 2015-July 2016 in the entire Midwest, which has a population of 65 million people, came from Illinois, which only has a population of 12.8 million people
The U.S. Census Bureau records domestic migration rates per 1,000 residents for each state. This way of keeping the records adjusts the migration losses for each state's population to make it an apples-to-apples comparison regardless of a state's size. Looking at migration losses per 1,000 residents shows how Illinois is truly an outlier.
Illinois lost 114,000 people to domestic migration against a total population of 12.8 million people. That works out to a loss of nine people per 1,000 residents. The next-worst surrounding state was Michigan, where the domestic migration loss was 2.8 people per 1,000 residents. Michigan's loss rate is nowhere close to Illinois', and every other state in the Midwest was significantly better than Michigan.
The number of Illinoisans fleeing their home state has garnered the attention of Moody's Investors Service, an agency that assigns ratings to government debt. In Moody's U.S. Public Finance Weekly Credit Outlook, released Jan. 5, the credit agency pointed out that Illinois' weak economic growth and consistent population loss are credit negative – which means the agency thinks Illinois' credit outlook isn't good. Government data shows that Illinois' population is bleeding out to other states and that wealthier Illinoisans in particular are leaving fastest. These are the kind of negative indicators that lead agencies like Moody's to issue downgrades.
Moody's notes that population flight and tepid economic growth will complicate efforts to enact a balanced budget and keep up with mounting pension funding pressures.
There are good reasons for Moody's warning. As they note, Illinois' population flight is unlike the exodus from any other Midwestern state. Illinois is the only shrinking state in the region.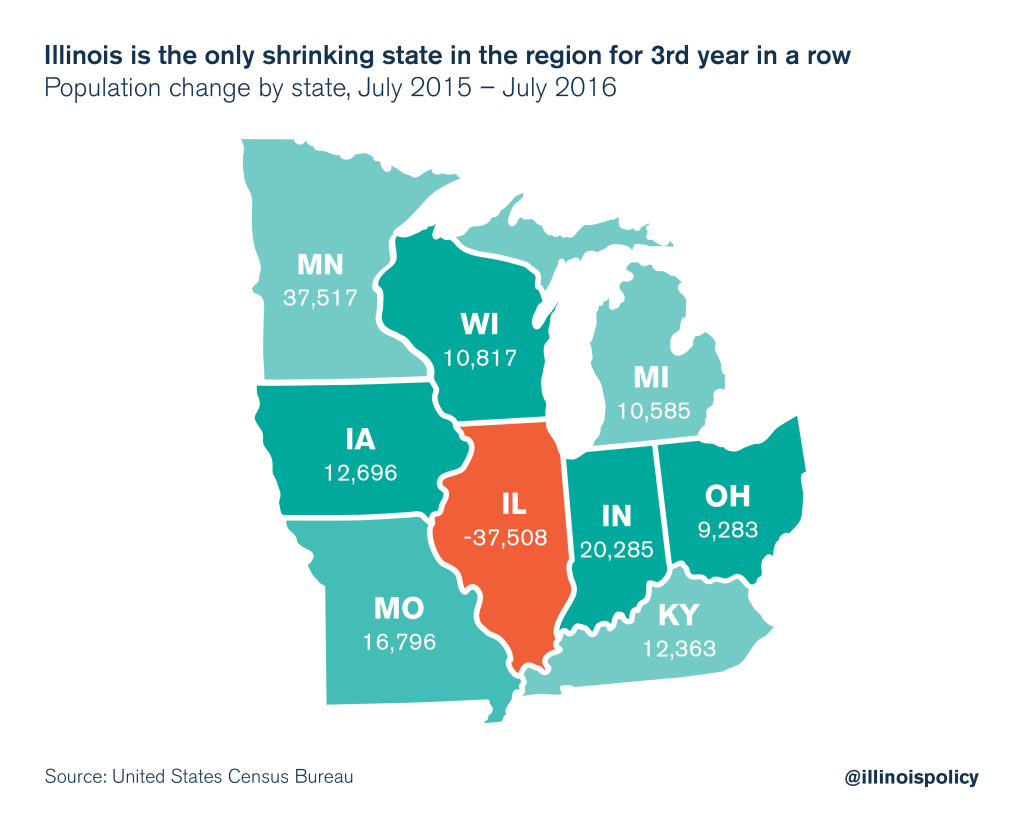 In fact, on a per-capita basis people are fleeing Illinois more than three times faster than Michigan, the next-worst state in the Midwest.
Back to top
---
For Your Information
Bradley University's Executive Development Center is hosting:
Navigating Uncertainty: Reframing Excellence in Leadership
Tuesday, March 7 from 8-10:30 a.m. at Hayden-Clark Alumni Center
Sessions include: Times of Turbulence, Maintianing Engagement & Motivation and Succeeding through Uncertainty: Strategic Agility and the Resilient Leader. Becky Wood, MBA, will be one of the featured speakers.
This session is free; however, seating is limited so please register early.
For complete details on this conference, simply click on this hyperlink:
http://www.bradley.edu/academic/cio/edc/development/uncertainty/index.dot
Back to top
---
Community News
The Turner Center for Entrepreneurship in partnership with the Illinois Small Business Development are pleased to announce that applications are being accepted for our new Enterprise Program. If you are in need of marketing assistance, website design or building a social media campaign for your business, complete the application below.
Want to 'engage' your customers? Creating a social network improves your business as a social customer service establishment. A website establishes that a brand exists, while a social media page establishes that the brand is active. With a website being an embodiment of a communication tool, building a website or keeping your website updated can be exhaustive. Let the Illinois Small Business Development Center (SBDC) at Bradley University assist you with their Enterprise Program to help develop a digital marking presence.
Are you a small business owner that currently has a problem? Are you so busy that you don't have the time or maybe the expertise to solve the problem yourself?
Then apply to the Enterprise Program and receive input from a group of students with the resources of the University behind them.
This program was inspired by such programs as Cal State, Michigan Tech, and the University of Illinois.
Teams of students from a mixture of departments across campus will be assembled based on specific disciplines and brought together to consult for you for a nominal fee. The group of students are hired to work directly for your company, and are advised by one of the Turner Center for Entrepreneurship staff. The project can last anywhere from a week to a month or longer, depending on the complexity of the problem needing to be addressed. Students will then be compensated at the completion of the project.
You may propose any type of related project as long as it contains specific deliverables from the team. Currently, the Enterprise Program is forming teams around Social Media, Graphic Design, and Website Design, but additional teams can be formed based on your current needs.
Once the scope and costs of the project have been defined, the students embark on the bulk of the project. Students work mostly from campus, but keep in regular contact with the company. Students are usually able to travel to the client for any necessary meetings and to view the facility (if applicable).
Students will provide a full report of the work they performed to the client, with recommendations for the client moving forward.
Enterprise Client Responsibilities:
Complete an online Enterprise Program application below.
Attend an informational meeting at the beginning of the project. At this meeting, the advising staff member from the Turner Center will go over the project in great detail and discuss the Conflict of Interest statement that is signed by all of the participating students.
Complete a Client Profile (confidentiality) form.
Be available to the students to answer questions throughout the project and provide the team with additional information relevant to the project as necessary.
Agree to the terms of the quote provided by the Turner Center for Entrepreneurship at the beginning of the project.

Start-ups and companies of any size or industry are welcome to apply.
To apply, please complete the application form, by clicking HERE.
For additional information, please call the Illinois SBDC at (309) 677-2992.
The Illinois SBDC is funded in part through a cooperative agreement with the U.S. Small Business Administration, the Illinois Department of Commerce and Bradley University.
Back to top
---
Classified Ads
Back to top